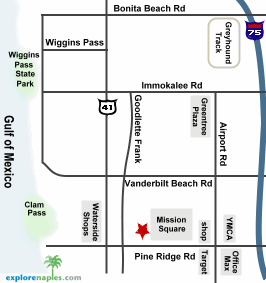 map is not to scale

Menu of Services - click here
Join Us On Facebook - click here

Dolce Vita Hair Salon - Welcome
Dolce Vita Hair Salon is located in the Park Shore Plaza, with Fresh Market, Kmart & Home Goods, directly across US-41 from Carrabas Italian Restaurant.

You have found the top Framesi Salon in all of South Florida, including Miami and Ft. Lauderdale. We have achieved this distinction through cutting edge color techniques and a staff that is passionate about hair. We are pleased to have built a reputation as one of the top Salons in the state of Florida.

Our stylists take great pride in their work and have received the highest levels of training. We strive to make every client's experience a pleasurable and relaxing vacation from the stress of the outside world. We treat every client as an individual. We tailor our appointment times to each client allowing our stylists the time necessary to do world-class work. Dolce Vita exists to give each client the look they have always wanted. Amazing, healthy hair is our ultimate goal. Please see our menu for a complete list of services and don't hesitate to call if you have any questions.

Our Creative Director, Heather Bladich has been creating amazing hairstyles in Orlando, Fort Lauderdale and Southwest Florida for over a decade and a half. In this time she has experimented with a multitude of products and colors and over time has refined her choices to only the very best products suited for our unique warm, sunny and humid environment. These carefully chosen products are what we use at Dolce Vita. There is never any compromise in the products we use. It is a common practice at many salons to buy developer or lightener that is on sale even though it is an inferior product. We would never do this. Consistency is key in maintaining the highest standards of hair care and we always use the very best products regardless of cost.
Dolce Vita Hair Salon - Hair color
Why Framesi, Redken & Pravana?
Framesi is a world-class color line from Italy. Introduced to America in the 1970's it has long set the standard for quality in its field. Framesi has tremendous staying power without fading. Framesi also provides beautiful and realistic natural looking blondes, brunettes and reds as well as fantastic coverage for gray hair.

Redken is an excellent color line in its own right and makes a wonderful compliment to Framesi. We find Redken helps give three-dimensional colors an extra, "wow" factor that is hard to find from any one color line. By utilizing more than one color line we are better able to serve our clients needs and maximize the potential of each client's hair.

Pravana is perfect with those with a wild side. If you're looking for a bold, beautiful red or blue streak there is no better choice than Pravana. How long this color lasts is simply amazing.

Other color lines: our expert stylists are experienced and well trained in many color lines. If you feel you must use a different color line talk to us and we can special order a multitude of colors for you. Color comparison: bring in almost any color formula and we can match it using Framesi or Redken color. Our color experts enjoy a challenge; please don't be shy to ask any questions.
Dolce Vita Hair Salon - Styling products
Why Bumble and bumble?
We have found Bumble and bumble to be very well suited for dealing with the humidity, warmth and sunshine found in Naples. Bumble and bumble is an extremely unique company. They don't advertise, as their reputation is their advertisement. Over a period of decades each product has been created to fill a specific need. Bb uses only the finest ingredients, allowing its users to have the healthiest, most beautiful hair possible. We use Bumble and bumble because they share our vision and understanding that only the very best quality and the very best education are suitable for our Salon.

Education is another vitally important aspect of Bumble and bumble. Located in New York City is Bumble and bumble University, a six-story facility created for education and career enhancement of Stylists and Salon staff. There is nothing else like it in the world. By sending our stylists and staff to B.b.U. we give our stylists the knowledge and tools that are only found at top Salons.
Dolce Vita Hair Salon - What you should know!
Chair Education
We believe strongly that each client should be able to replicate at home the amazing look they receive while in their stylist's chair. Please do not hesitate to ask for extra time while booking for chair education. We want you to look great every single day.

Referral Program
To reward our clients we have a great referral program: for every four people you refer you will receive a $20.00 credit for Bumble & bumble products of your choice. Word of mouth is our best advertisement.

We do Sushi!
Ichiban Japanese Restaurant is right next-door and if you like we will bring their delicious fresh food to you while you are visiting Dolce Vita. This is great for our clients who are on the go. We also provide complimentary beverages, wine, beer, coffee, soda, etc., for all of our clients.

Ongoing Education
Ongoing education is at the heart of our Salon. From master classes in NYC at Bumble and bumble University and quarterly in-Salon education by top Framesi Educators to education events in SW Florida or Miami and hair shows around the country we are always improving our skills and our understanding of the latest improvements in technology.

Confirmation Calls
As a courtesy we give all of our clients a confirmation call the day before their appointment. If you prefer we do not call simply let us know.

Employment Opportunities
We are always interested in speaking with a motivated individual with a good attitude.

Need More Information?
Please call if you have any questions. We would love to give you the look you have always wanted! 239.659.0600