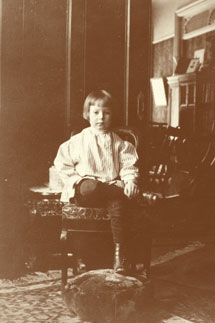 Barron Collier, age 10, at his boyhood home in Memphis Tennessee in 1883. Just sixteen years later, Collier had made his first million selling advertising card franchises. (Barron Collier, c1909-1914)
Tradition credits John and Madison Weeks as Naples' first permanent residents. The brothers arrived in 1876 and settled along Gordon's Pass – named for an earlier pioneer, Roger Gordon. The remote area began to attract interest during the Florida land boom of the late 1880s when a group of Tallahassee businessmen founded the Naples Town Improvement Company. The Naples property was surveyed in 1886, platted the following year, and immediately offered to distant customers at the bargain price of $10 a lot.
In 1887, the Naples Town Improvement Company was reorganized under a group of prominent Kentuckians led by Mexican War hero and U.S. Senator, General John S. Williams. Together with newspaperman Walter N. Haldeman, the owner and publisher of the Louisville Courier-Journal, they formed the Naples Company and launched an ambitious town-building program based on visions of profitable tobacco plantations, winter tourism, and future rail and sea commerce between Naples, Cuba and the major port cities along the Gulf of Mexico.
One of the Naples Company's first improvements was a 600 foot pier that extended out into the Gulf. A wooden tramway ran along the pier to deliver supplies and luggage to the Naples Hotel, built in 1888.
By the summer of 1888, the new town of Naples consisted of a general store, post office, hotel, sales office, and a seasonal population of about 80 people. A half dozen beach cottages had also been built, all clustered near the foot of the pier, as well-to-do northerners treated themselves to the luxury of a winter home in Naples. Despite an optimistic beginning, sagging land sales and mounting debts collapsed the Naples Company just two years later. For the next thirty years, Naples remained a remote and private retreat for a handful of Kentucky and Ohio families who returned each season.
Years of isolation began to draw to a close in the late 1920s as roads and railroads penetrated the rugged Florida wilderness and reached as far south as Naples. The Seaboard Air Line Railway's depot at Tenth Street and Fifth Avenue South was still only partially complete when the first passenger train – the Orange Blossom Special – pulled into Naples on January 7, 1927.
World War II introduced hundreds of servicemen to Naples when the U.S. Army Air Field (now Naples Airport) was activated in December 1943 to train pilots for combat flying. City residents provided airmen with a movie theater and weekly dances at the Naples Depot and the Beach Club Hotel. The airport was returned to the city and county after the war and was dedicated as the Naples America Airport in 1953.
Much of the groundwork for Naples' impressive growth and development was laid after World War II. From a total of 390 people in 1930, the city's year-round population more than tripled by 1950. Aqualane Shores, Port Royal and other residential subdivisions were developed. Naples opened its first bank in 1950 and a hospital in 1956. Under the Naples Plan started in 1948, the community raised money to fund parks and civic improvements, and to beautify the city with palms and flowering trees.
Disaster struck on September 10, 1960 when Hurricane Donna scored a direct on Naples and Collier County. Storm driven winds and waves washed away most of the Naples pier and caused over $25 million in property damage. The infusion of insurance money and low interest loans helped Naples residents rebuild and actually stimulated the city's economy.
Since the 1960s, a steady increase in population and economic growth have made Naples the fastest developing part of Collier County and an even more appealing destination for new arrivals and seasonal visitors. Tourism and its economic benefits have surged ahead with renewed vigor, while construction, real estate and banking have become major industries.
Isolated for decades on the fringe of Florida's last frontier, Naples today has grown into a modern and sophisticated city of over 21,000 citizens, and a community of opportunity and glowing civic pride.