Naples Hotels

Our family visits Naples Florida every winter. Last year we stayed at the Registry Resort, and we loved it. Can you recommend other Naples Florida Hotels and Naples Accommodation or Vacation Resorts to us?

Tom Miller – Madison, Wisconsin

An early morning or afternoon Gulf breeze, a refreshing beverage by a swimming pool, romantic waterfront dining, spectacular sunsets, and breakfast in bed, these are the types of things that make any vacation a memorable one. Naples Florida has what seems to be an endless variety of places to stay, and whether you are on a romantic getaway, just touring the Naples Florida area, on a business trip, or you are on vacation with the kids, where you stay is important.

From luxurious, upscale five-star Naples Florida hotels and Naples resorts located on the Gulf of Mexico where resident dolphins play, to quaint inns located in Old Naples surrounded by art galleries, restaurants, and world class shopping, Naples Florida has a wide selection of accommodations to fit any taste or budget. Explore Naples; in a partnership with the number one Hotel Reservation Company available on the Internet today is proud to offer you an extensive selection of Naples Florida Hotels at the very best prices available.

A Guide to Find Best Hotels in Naples Florida

With so many Hotels in Naples Florida available to choose from, and taking into consideration you may be unfamiliar with the Naples Florida area, we anticipate you may have questions.

Your questions may include, What Naples Florida Hotels are located on the Gulf of Mexico? Which hotels are located in the downtown area? Which Naples hotels are close to the shopping areas? What are the best hotels in Naples Florida for large groups, and corporate events? Which hotels should be considered for budget conscious visitors? Which hotels are suitable for families with young children? What hotels have golf course access and packages? What are the best hotels in Naples Florida? All of these questions we would ask ourselves, if we were not familiar with the Naples Florida area. Therefore, we will address these questions for you.

To assist you in learning more about Naples Florida Hotels, and where they are located you will find four areas in which to explore: South Naples (Downtown), North Naples, Northeast Naples, and Southeast Naples. Since Naples Florida is a Gulf Coast city, West Naples is not applicable.


South Naples
Commonly referred to as Downtown, South Naples features many of Naples Florida's most popular attractions including Naples Main Street Fifth Avenue South, Third Street South, Tin City, Bay Front, The Naples Pier, Dockside Boardwalk, Cambier Park, Port Royal, Coastland Center Mall, Sugden Community Theatre Caribbean Gardens (Naples Zoo), The Naples Preserve, The Conservancy of Southwest Florida, and The City Dock. This area is heavily populated with a wide variety of Naples Florida restaurants, art galleries, shops & boutiques, and extremely close to Naples beaches.

Fifth Avenue South combines a community feel of a historic main street with the sophistication of a world-class destination. On Fifth Avenue South you can indulge in gourmet delights and sample fine wines at premier eateries. Browse the Naples Florida Art Galleries, and the von Liebig Art Center for works from both emerging and internationally recognized artists. Shop for casual sportswear, eveningwear, timeless accessories and one-of-a-kind gifts.

Naples Florida Hotels located on Fifth Avenue South include: The Inn on Fifth which captivates guests with an abundance of Mediterranean archways, private terraces, intimate seating areas, lavish fountains and signature pineapple finials. Hotel Escalante, an intimate, luxury hideaway reminiscent of an old-world Mediterranean villa, nestled in four acres of exotic tropical gardens is located two blocks from the beach.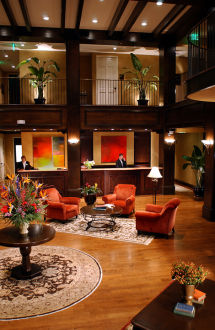 The Bellasera Resort located at the gateway to 5th Avenue South, where Naples' tropical elegance, color and historical beauty is at its finest is the only resort of its kind in Naples Florida. Guests stay in private suites designed to meet their every need, all facing a lush courtyard. Suites range from studio to three bedrooms with fully appointed kitchens. Bellasera Resort offers authentic Italian architecture, cuisine and hospitality complimented by a heated outdoor pool, state of the art fitness center and courtyard water fountain. During your stay at the Bellasera Resort, you are cordially invited to enjoy the wide variety of relaxing and customized amenities such as room and poolside service, luxury cabanas and concierge services, championship golf, fishing charters and boat rentals . . . and that's just to name a few. So feel free to do whatever your heart desires. Bellasera is your paradise.

The Naples Beach Hotel and Golf Club, an extremely family friendly hotel, and an ideal venue for corporate events, is located directly on the beach just 12 blocks away from Fifth Avenue South, features a championship 18-hole, par 72 golf course measuring 6,488 yards from the blue tees, tennis courts, sailboat rentals, and four on-site restaurants. The Naples Beach Hotel and Golf Club also features a Day Spa where you can relax, restore, and rejuvenate yourself with massage therapy, reflexology, facials, and all the other pampering delights available.

The Trianon Old Naples featuring 55 spacious guestrooms and 3 large one bedroom suites, a pool and off-street parking is a first class luxury-style hotel is located just blocks from Tin City, and Fifth Avenue South.

The Edgewater Beach Hotel & Club, one of several Naples Florida Waterfront Hotels is located on Gulfshore Boulevard, only five minutes from Fifth Avenue South, Third Street South, Naples Pier, and many other area attractions. Each of the 126 suites features a full kitchen, living and dining area, bedroom and bath. Hotel guests enjoy gourmet dining in the award-winning Club Dining Room, access to an on-site health club and elegant relaxation amidst the flower-filled tropical courtyard.

Staybridge Suites by Holiday Inn, located approximately 3 ½ miles from downtown is a new concept for extended stays. It's an all suit-suite hotel designed to let travelers feel more comfortable than ever before. Each suite is designed for maximum flexibility and adaptability to meet guests' individual needs. In fact, that's the idea behind everything Staybridge Suites offers. Suite selections range from studio, one bedroom and two-bedroom/2 bath. All suites have a pullout sofa bed, a dedicated direct phone number, with personalized voice mail.

The Lemon Tree Inn, designed with the architectural influence of Old Florida and set against a backdrop of beautifully landscaped tropical foliage, is a charming, quaint, moderately priced hotel located 2 blocks from Fifth Avenue South, and five minutes from the Gulf of Mexico.

Bayfront Inn 5th Ave., nestled along picturesque Naples Bay has everything you can imagine within walking distance, like the shops at Tin City, Bayfront Marketplace, boutiques of Fifth Avenue South, and if outdoor activities are more your style, the beautiful Naples Florida Beaches are just one mile away.

Other hotels located in the South Naples area include the Hampton Inn (Naples Central), Holiday Inn Naples, Wellesley Inn, Courtyard by Marriott, Best Western Naples Inn & Suites, Red Roof Inn, and the Quality Inn Gulfcoast Naples. All of these hotels are still within very close proximity to the Fifth Avenue South, Third Street South, Bayfront, and Tin City shopping areas and the Naples Florida Beaches.

All of the Hotels in South Naples are within a 15 minutes driving distance from the Naples Florida Airport, and approximately 1 hour from the Southwest Florida International Airport.


North Naples
Let's take you up the coast now approximately 5-11 miles towards the North End of Naples. Here you will find a wide selection of Hotels in Naples Florida sure to fit your particular tastes, needs, and budgets. The North Naples area features such Naples Florida Attractions as, The Village on Venetian Bay and Waterside Shops (two very popular Naples Shopping areas), Seminole Indian Casino of Immokalee, Mercato, Delnor-Wiggins State Park, the Naples Museum of Art, the Philharmonic Center for the Arts, and many Naples Florida Golf Courses.

For sophisticated Naples Florida accommodations, the top five Hotels to mention in the North Naples area are the Vanderbilt Beach Resort, Ritz-Carlton, Naples Grande Beach Resort, Laplaya Beach & Golf Resort, and the Ritz Carlton Golf Resort.

The Vanderbilt Beach Resort
Relax and Experience Old Florida At Its Best! The Vanderbilt Beach Resort is a small and intimate family-owned beachfront hotel that offers a relaxed, laid back, casual atmosphere reminiscent of the small hotels of Old Florida without sacrificing the modern amenities that you have come to expect. This off-the-beaten-path hotel is cherished by travelers who value an authentic Florida vacation experience and gracious hospitality. You will be treated like family as you sunbathe on our beautiful beach, stroll through our orchid garden, unwind in our infinity pool, dine at our award-winning Turtle Club Restaurant, or fish from the boat docks on our lagoon.

Situated on twenty acres overlooking the Gulf of Mexico, the Ritz-Carlton is one of the Naples Florida Waterfront Hotels that has it all. Grandly Luxurious with twin turrets, private balconies, and a Gulf of Mexico view from every guest room, This Ritz-Carlton is reminiscent of the Seaside Resorts that flourished at the turn of the Century. Blending traditional elegance with superb resort amenities, the Ritz-Carlton Naples creates an exceptional experience for every guest every time. Consistently ranked a foremost Resort, the Ritz-Carlton Naples offers a superb destination in every season. The Exxon Mobil Five Star, AAA Five Diamond resort has seven unique restaurants, an exclusive spa, golf, tennis, and water sports.

Perhaps you are looking for a Naples Florida Golf Course. Play golf at the Ritz-Carlton Naples signature golf course, Tiburon. This 72 Championship par golf course designed by Greg Norman features 7,170 yards. Players will be able to challenge their abilities with the stacked sod bunkers, fairways lined with native vegetation and no roughs.

In a setting of tropical beauty, sugar white beaches, palms, waterfalls, and gardens, an uncompromising standard of luxury awaits you at the Naples Grande Resort & Club. This Naples Florida Resort, a perfect location for special events or corporate meetings, and also a family friendly hotel, offers six restaurants including the Cafe Chablis, or the casual Paradise Grill at Clam Pass Beach, one of the few places in Naples to enjoy lunch and a water view.

In the 18-story tower, all 395-guest rooms feature breathtaking views of the Gulf of Mexico from their private balconies. This Naples Florida Resort offers a Mecca of activities: a 100 foot-long waterslide through an enormous rock mountain will swoosh guests into a spectacular new swimming pool that gives the resort five on site swimming pools

The LaPlaya Beach & Golf Resort, one of a handful of Waterfront Resorts in Naples Florida, and another perfect location for special events and corporate meetings, rests amid the natural and legendary beauty of Naples. The sun rises over the azure waters of Vanderbilt Bay, and sets gloriously into the warmth of the Gulf Stream. Surrounded by water and located on a wonderful stretch of white sand beach. The LaPlaya Beach & Golf Resort is one of the premier beach resorts in Florida.

The LaPlaya Beach & Golf Resorts has 189 guest rooms and four suites, that are, at once, soulful and stimulating, indulging the senses. Each is oversized, and filled with endless details of luxury, marbled bathrooms, and workspaces with data ports. The all-new 4,500 square foot SpaTerre and fitness center is a soothing and rejuvenating environment that features treatments based on the traditions of Indonesia, promoting health (body), peace (soul) and relaxation (spirit).

The Naples Florida Golf Course (LaPlaya Golf Club) designed by Bob Cupp- features a 6,907-yard championship layout, 18-hole, par 72 golf course, driving range, practice area, and 12,000 square foot clubhouse scheduled to open in 2003. The LaPlaya golf course is available exclusively for resort guests and LaPlaya club members. Distance from the Resort is approximately 4 miles. The Laplaya Golf & Beach Resort is located approximately forty minutes south of the Southwest Florida International Airport, and approximately 25 minutes from the Naples Airport.

Golfers take note; here is a Naples Florida Golf Resort you will want to visit. The Ritz Carlton Golf Resort, a fantastic venue for corporate meetings, offers sweeping views of the 36-hole Tiburon Golf Course, and is the gateway to an exceptional golf experience at this Greg Norman designed course. Surrounded by emerald fairways and designed to allow guests to bask in a total golf ambiance, the Ritz-Carlton Golf Resort Naples is the perfect spot to savor the pleasures of the world's finest sport, and to delight in the elegance of the world's premier hotel company.

Tiburón Golf Club reflects designer Greg Norman's appreciation for pristine natural settings and his passion for great golf. Norman designed it to play like a British Open links course, firm and fast, but without the frustrating thatch of rough that confounds even the pros. Tiburón, two 18-hole courses carved out of 800 acres of native Florida foliage, is at once elegant and stunningly beautiful yet challenging for players of every level. Stacked sod-wall bunkers and tricky coquina sand waste bunkers contrast with the meticulously trimmed grass. This Golf Resort in Naples Florida is located approximately forty minutes south of the Southwest Florida International Airport, and approximately 25 minutes from the Naples Airport.

The Hilton Naples is ideally situated across from the upscale Waterside Shops of Pelican Bay and just three blocks from the Gulf of Mexico, and Naples Florida Beaches. With 170 employees for 187 rooms, The Hilton Naples believes that they can provide guests with first class service. Whether traveling for business or leisure, the Naples Florida Hilton guest rooms provide the level of comfort, convenience, and serenity needed in today's hectic life.

The Park Shore Resort, where each spacious one and two bedroom suite enjoys views of their private tropical island from an oversized balcony. Spacious floor plans feature living rooms and dining areas, complete kitchens and large screened balconies. Here you can stroll cobblestone walkways, play a set of tennis, dine at the Island Club Restaurant, barbecue at the gazebo, soak in an outdoor spa, read under canvas umbrellas and just relax.

The Inn at Pelican Bay is a superior first-class Naples Florida Hotel located 30 miles from Southwest Florida International Airport. Situated in the prestigious Pelican Bay section of North Naples, this Mediterranean-style hotel is built on the edge of a private lake. The Inn at Pelican Bay is just one mile away from the glistening beaches on the Gulf of Mexico, where cabanas and chaises are readily available for rent.

The Doubletree Guest Suites is one of several moderately priced Naples Florida Hotels located in the North Naples area, and only 23 miles from Southwest Regional Airport. Surrounded by luxurious palm trees, this property overlooks the Cocohatchee River and Wildlife Preserve, providing guests with a gorgeous glimpse of nature. The full-service hotel, offers casual elegance in a relaxing atmosphere, and is only two miles from beautiful Naples Florida Beaches and minutes from shopping and attractions. Golf packages are available at premier Naples Florida golf courses. Sight seeing tours and fishing excursions can also be arranged.

The Hawthorn Suites Naples, an attractive, first class property combines the best in comfortable accommodation and high quality service at affordable prices that makes this one of the most popular budget conscious Naples Florida Hotels in its class. Each spacious comfortable guest room at the Hawthorn Suites Naples is tastefully decorated in neutral earth tones with pretty, modern furniture and attractive prints on the walls; and, each is fully equipped to meet the demands of today's discriminating traveler. All guest suites offer a host of amenities, including fully equipped kitchens with microwaves and refrigerators, coffee/tea makers with complimentary coffee, and modem/data port connections.


Southeast Naples
Still within relatively close proximity to Naples Florida beaches, shopping areas, nightlife, boating and fishing, Southeast Naples, closer to the Everglades and Marco Island, and very close to the Interstate offers plenty of options for the more budget conscious consumer and business traveler.

Green Links Golf Resort is Naples' only luxury condo resort located right on the fairway. A great golf course cannot simply be designed. It must be evoked from deep feelings of love for the game and an eye for the elements. The same applies to the greatest condo resorts of all time. When dreaming one up, questions must be answered. Does it fulfill the sensations and graces of home? Should it provide you with 36 holes of championship golf as well as award winning service? Should the amenities exceed all your expectations? Of course at Green Links Golf Resort they found the delicate balance between harmony, design and home. They then take advantage of that balance to provide you with the greatest vacation of your life. Just ask the hundreds of repeat guests that travel many miles to take in a memorable weekend as they tackle Naples' only Robert Trent Jones, Sr. signature course, The Flamingo, or Lee Trevino's intensely designed Mustang. Or ask those who may have come for the golf only to find themselves shopping in beautiful Naples, shelling on the beach, or just relaxing by our unique pool with waterfall. You'll find they all say the same thing, "It's breathtaking." So, whether you're here to stay or play, you'll find that this masterpiece golf resort is everything you'd dreamt of and more.

The Quality Inn & Suites Golf Resort, a family friendly Golf Resort offers a full array of amenities and recreational activities for all. The Resort offers 180 luxurious rooms consisting of standard king and double queen size rooms, efficiencies and 1 & 2 bedroom suites. One feature that stands out at the Resort is the 18 - Hole, Par 72 Championship golf course that is located right on site. There is also a lighted driving range, practice greens and a Pro Shop.

The Comfort Inn & Executive Suites, just 15 minutes from the Gulf of Mexico is closer to the Everglades, Isle of Capri and Marco Island, as well as a free shuttle from the hotel to the Seminole Indian Casino.

Other moderately priced hotels located in the Southeast Naples area include the Baymont Inn & Suites, Super 8 Motel, and the Holiday Inn Express. All of these hotels are within very close proximity to the interstate, 20 – 30 minutes to Naples beaches, and shopping districts, and just a short drive to Marco Island.


Northeast Naples
In the Northeast Naples area, close to Waterside Shops, the Village on Venetian Bay, and Naples Museum of Art you will find hotels such as the Best Western Naples Plaza, where guest rooms are decorated in a tropical contemporary motif and feature all modern amenities. The hotel features a heated outdoor pool and spa, complimentary continental breakfast, and lounge on-site. ADA approved guest rooms are available upon request.

The Hampton Inn Naples I-75 is just a short distance from Gulf beaches and Delnor Wiggins State Park, providing guests with easy access to all Naples have to offer. The Business Traveler will find these locations extremely convenient to all of the areas newest developments.

We are confident that you will find the right Naples Florida Hotels to fit your particular needs. If for any reason you are unable to find a specific Naples hotel or resort in the ExploreNaples.com website, or if you have any questions, please phone us toll free at 1-800-617-8544 to speak with an ExploreNaples.com accommodations specialist.